The AquaStation allows the use of optional modules, pay only for what you really need. You can also extend the functionality of your AquaStation at any time.
---
Base Station
 The Base Station, or AquaStation, is the main component to which you can connect the other modules. It comes in three models:
| | | | | |
| --- | --- | --- | --- | --- |
|  Model | Ram |  CPU | Drive Capacity | Drive Performance |
|  AquaStation AS08A | 512Mb |  700Mhz | 8Gb | 30Mb/s |
|  AquaStation AS16A | 1024Mb | 900Mhz | 16Gb | 45Mb/s |
With a more capable AquaStation, you can store a greater number of information and historical values. With a faster acquacontroller, in addition, data reading and writing will be quicker, through a more fluid interface and instantaneous controls. With superior quality of the support disc and with greater MTBF (mean duration).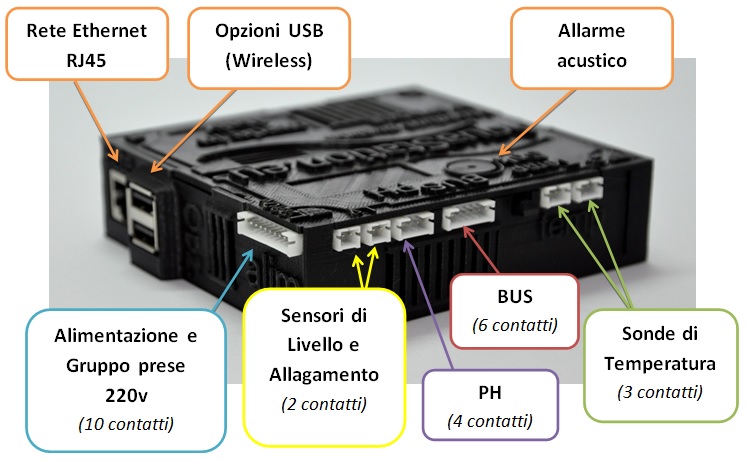 ---
220V Relay
The module "Timer 220v" provides a schedulable 8x 220v electrical lines. The lines are:
• 7 lines schedulable or manageable by Controller Software (see below);
• 1 Red line, exclusive to the "LED Dimmer" Optional Module (you can not pluganything elseother than thisform);
•2 Green Permanentlines, always active, useful to thebackupheater,to the filter andto other apparatusesthat must remainalways lit;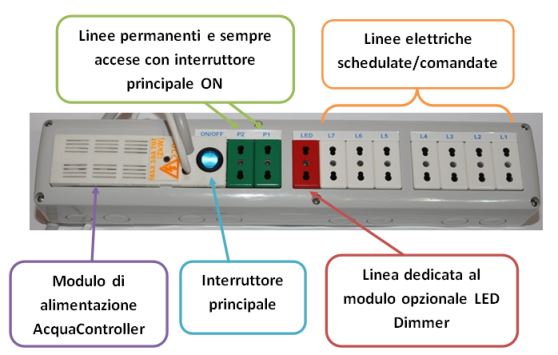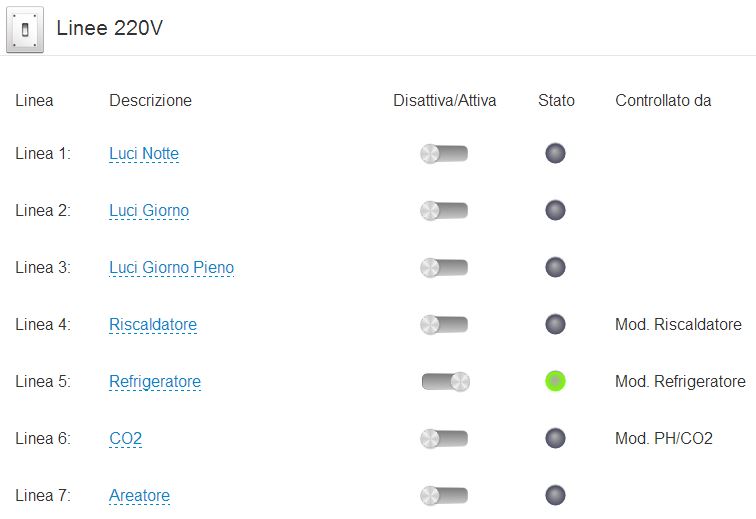 Difference between
scheduled lines and
controlled
lines
The seven lines can schedule (Timer) the timing for power on and off: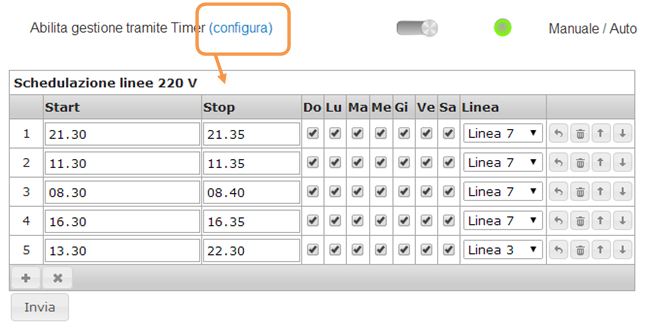 or manage the automatically controlled and triggered operations by reading values: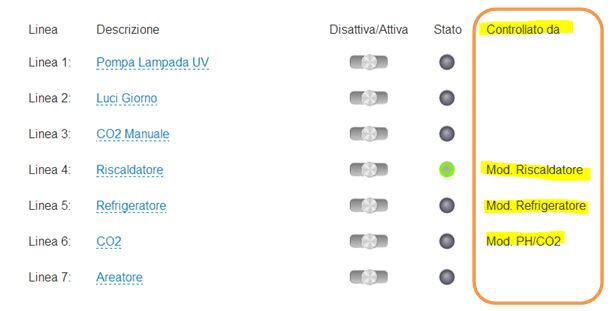 In Menu "Thresholds of Intervention" you can check what the system is connected to:
• The heater (not included)
• The chiller (not included)
• The solenoid valve of CO2 (not included)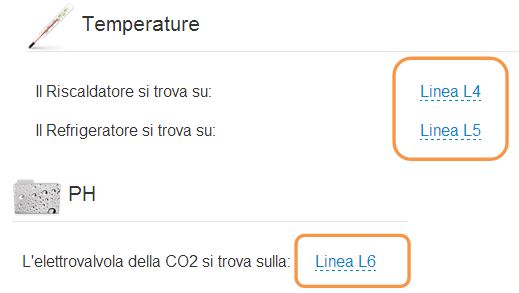 Properly configuring the thresholds of intervention, will allow to command the AquaStation's electrical outlets, being able to switch them on or off as needed. The most frequent example is that of the heater: setting the power line where it resides, you can turn it on when the temperature drops below a certain threshold.

---
Energy Analyzer
This module allows the calculation of energy consumption in relation to LIGHTS, HEATERS, OUTDOOR TEMPERATURE and anything connected to the device. The analysis takes place via an ammeter capable of graphing consumption related to the devices turned on at that time. Analysing daily, weekly or monthly consumption can help saving energy.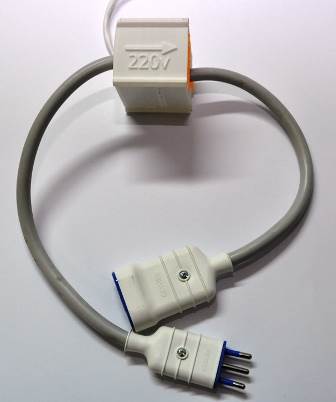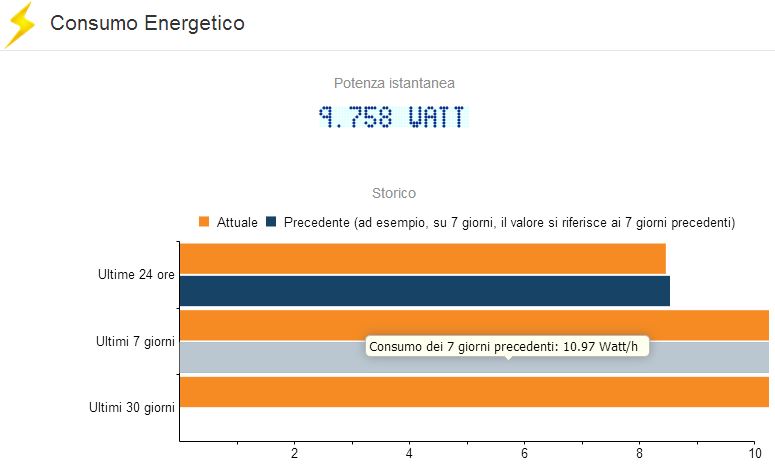 If you do not have the optional module, it is still possible to estimate the energy consumption by filling the screen "Esteemed Energy Consumption"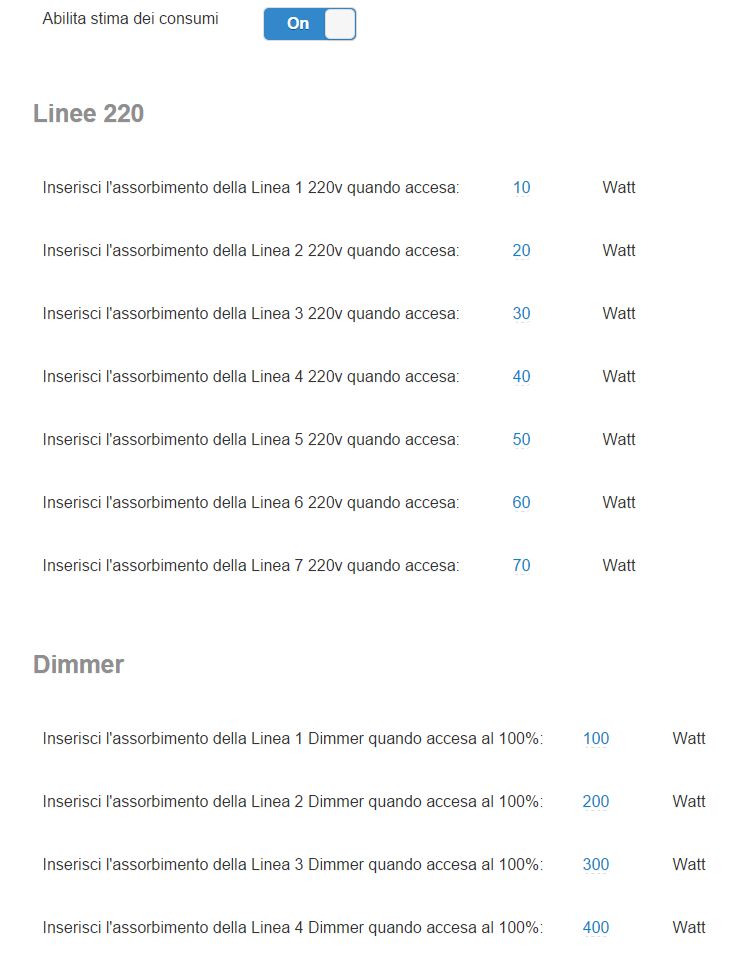 ---
Dimmer LED
Those AquaStation equipped with 12v LED lights provide a 10A power dedicated to illumination or PWM Controller.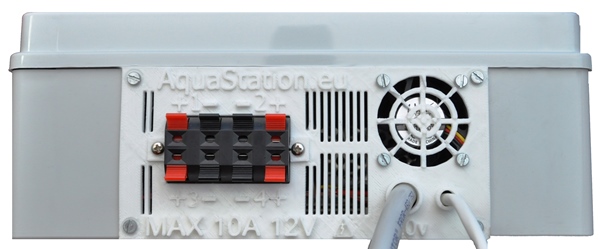 or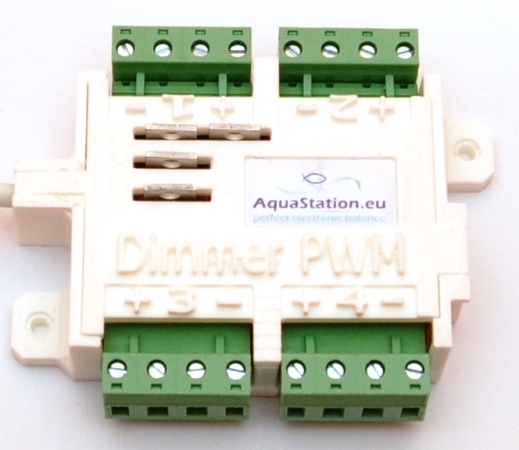 The optional "LED Dimmer" allows you to control 4 independent 12v lines through a special menu, scheduling timing of sunrise and sunset and maximum brightness of the line (1-100%) in steps of about 0.4% (1/255).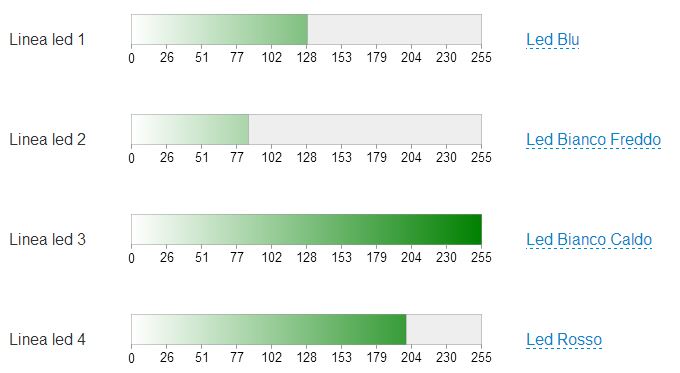 The module includes the 12V-10A power supply for LEDDimmer dedicatedto lights, so it is notnecessary for your 12vLED to be self-powered.

The maximum load capacity is 10A and never greater than 4A per line.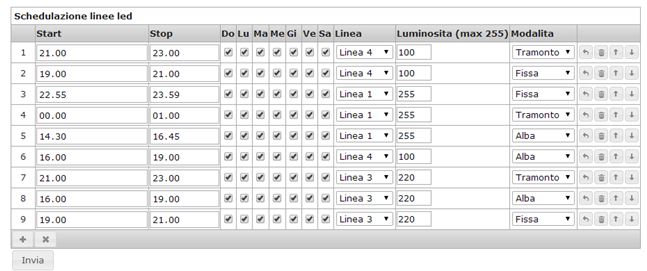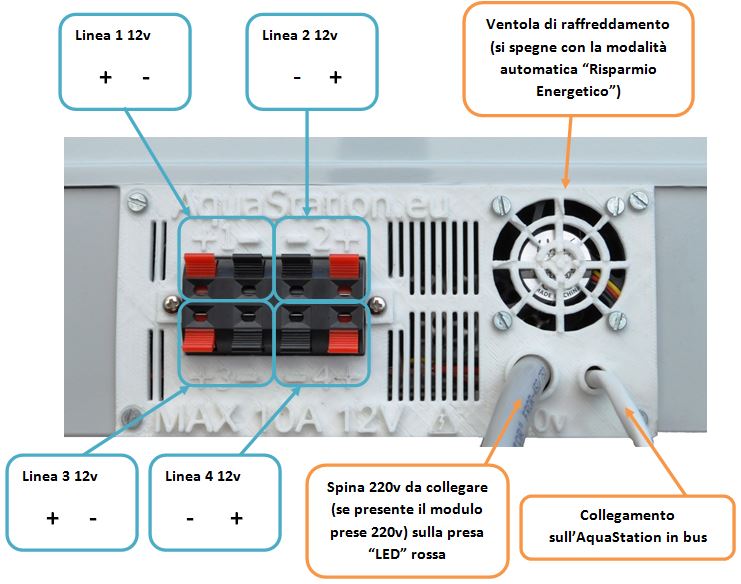 If you have a PWM ceiling light compatible with MW LPF-25D power supplies,you cancontrol themusing the moduleDimmerPWMthatdoes not containthe power supplybutdeliversthe electronic controls for the PWM.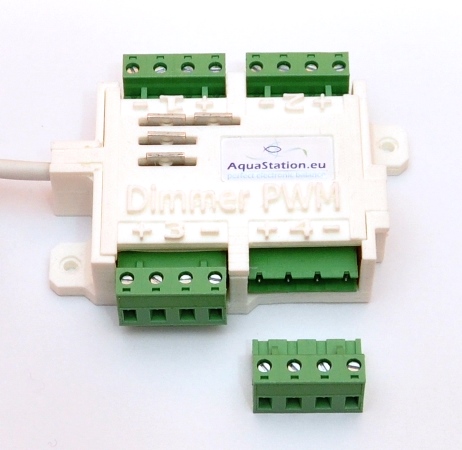 ---
PH Probe
 This module provides:
• pH probe
• liquid preservation
on request and at no extra charge: calibration fluids


The use of the probe allows real-time reading of pH values, the ability to control a 220v solenoid valve (notincluded, optional220vsockets needed), to operateyourCO2 system(not included)andreceive emailalertfor pH values exceeding threshold.

The liquid preservation service acts in case of prolonged non-use or for return for calibration.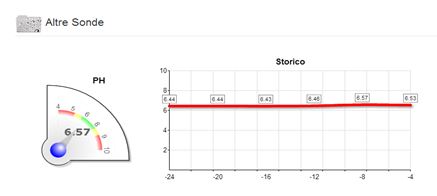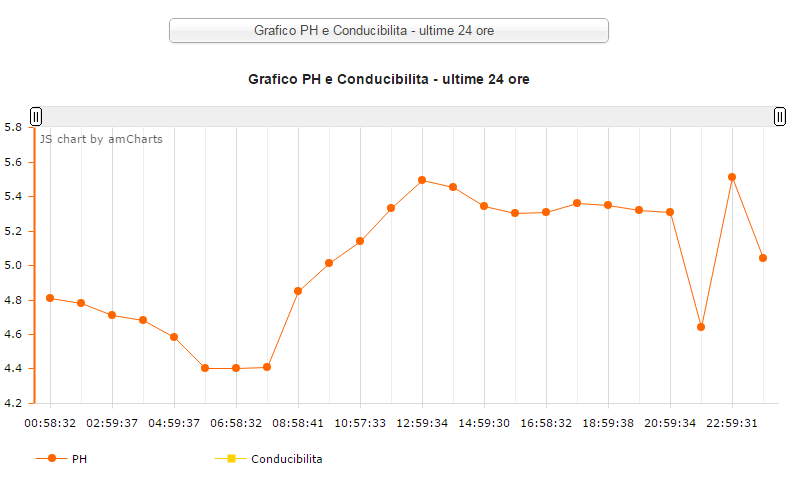 ---
Wireless NIC
The AquaStation is configured via a web interface, receives updates though the internet and sends alerts via email related to collected data (low temperature, insufficient heating, pH values exceeding threshold, exaggerated energy consumption...).

The base is equipped with a USB to RJ45 Ethernet 10 / 100Mbit; however, this module allows connection to a wireless network, thus avoiding to connect network cables to the module.

We always recommend connecting the device to a network provided with an internet connection (with or without wireless module).

List of not purchasable features without internet connection (WiFi or Wired connection):
• System updates
• Sending alerts via email
• Saving Configurations in cloud
• Check anomalies in cloud
• Consultation of values from mobile devices
• Dynamic Update signatures / banners containing values
• Enable optional modules

 

The wireless module support the IEEE 802.11n (draft), IEEE 802.11g, IEEE 802.11b Data Rate: 802.11n: up to 150Mbps (downlink) and up to 150Mbps (uplink), 802.11g: 54/48/36 / 24/18/12/9/6 Mbps auto fallback, 802.11b: 11 / 5.5 / 2/1 Mbps auto fallback. 2.4GHz ISM frequency.

For safety reasons, the controller works exclusively through encrypted networks in WPA or WPA2, TKIP and AES. Open networks, like the WEP and WPA-Enterprise (with Radius Server) are not supported. The home and entry level access points are usually compatible with these settings.
---
Temperature additional probe
The AquaStation is able to:
• Monitor the temperature by 1 or 2 redundant probes;
• Turn on and off heaters and coolers automatically;
• Send alerts via email in case of excessive fluctuations, temperature probes with extremely different value, insufficient heater power (switched on for prolonged time);

 

With two redundant probes you can obtain an average value for the temperature (very useful in case of tanks above 300lt with different temperature zones) and realize whether there are calibration problems with any of the two probes.

---
Flooding Probe
A probe permanently detecting flooding or water reaching the alert level, or water inside the box analysis, that will send an email alert, and (if set) will turn on/off a 220v outlet.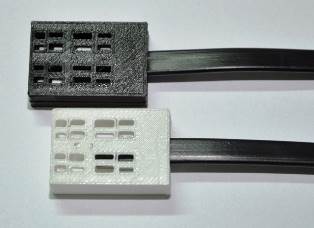 ---
Bus Hub
The following devices are connected to a "BUS" connector:
• LED Dimmer module
• Energy Analysis module
• LCD display
• Conductivity module

 

The AquaStation has a BUS door, duplicated using the dedicated "Bus Hub" accessory.Thebushubextends to furthertwobus doors(three doors with the space of a single one).

It is also possible to set the bus in cascade.
---
LCD Display
The LCD display provides a video information assessing the parameters checked in your aquarium. Green values indicate a measurement not trespassing safety threshold; red values call for attention to anomalous data.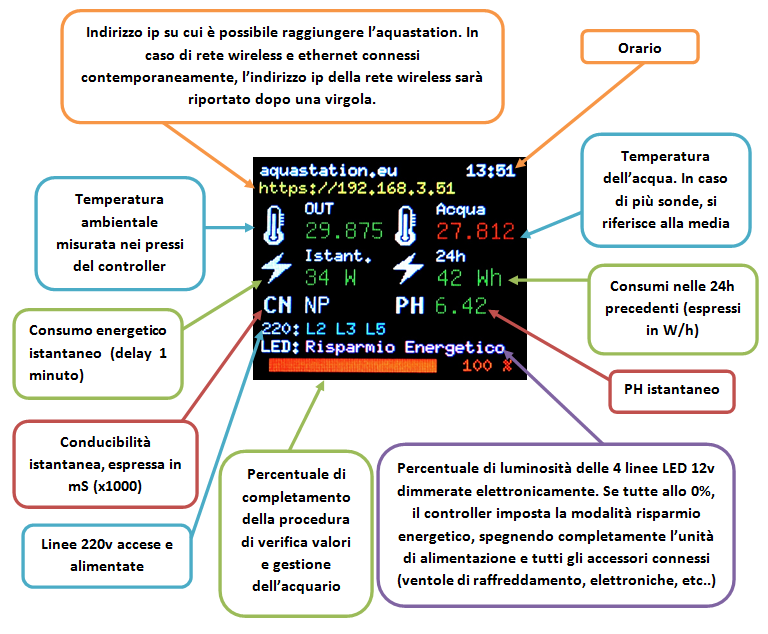 Should one or more optional components fail sending measurements to the display, the abbreviation "NP" (not present) will be shown on screen.

Values exceeding alarm threshold will appear as a red field instead of usual green. The threshold is indicated in the "intervention thresholds" menu and corresponds to a specified tolerance limit above which the system will send email alerts.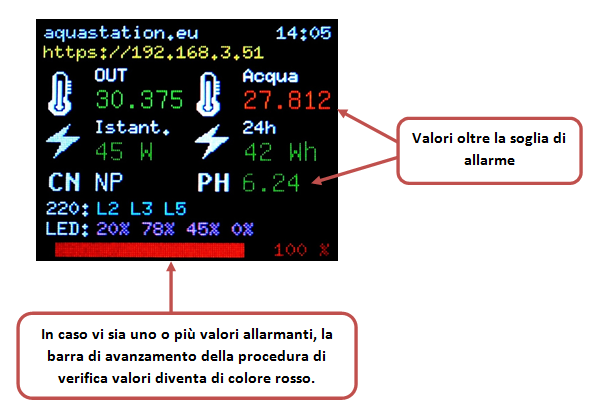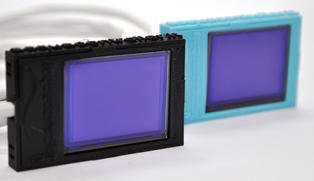 ---
LCD TouchScreen Display
Through the touchscreen display you can see graphics, give quick commands and set access to the network and to the cloud. The display is designed to let you immediately faults, alarms and problems in the acquarium.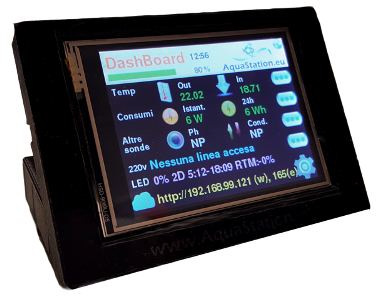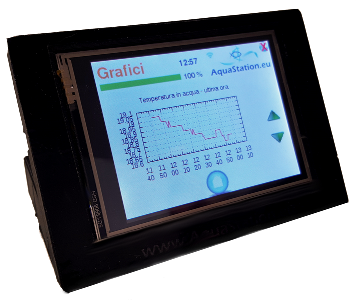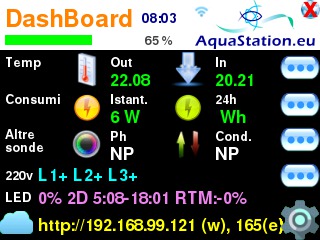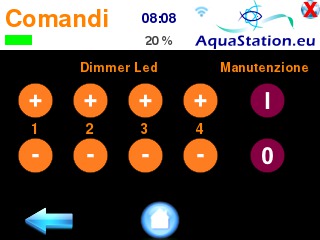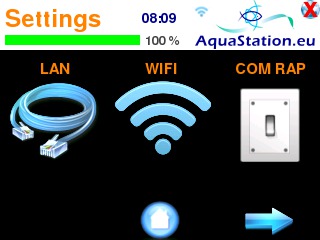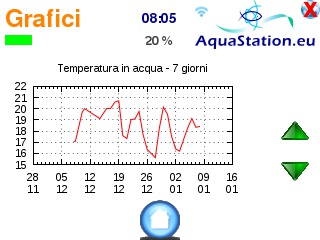 ---
Remote IR Control
Remote IR Control can perform a shortcuts.
- 220v line on/off switching
- LED Dimming for all 4 lines
- Enabling and disabling timer
- Activate the "Aquarium Maintenance" for rapid starting of all the lights, even LED
It also has 4 configurable function keys as desired.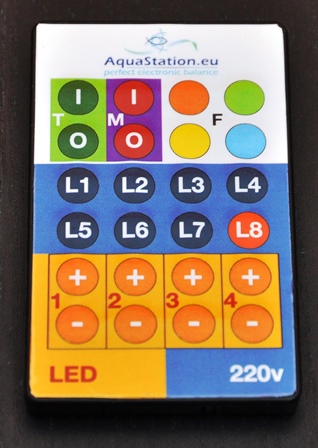 Language
Search
More Info
Who are you and what I'm buying?

Demo Area and Cloud
FAQ
Orders and Contacts
Channels
(You can find in competitions and prizes to win AquaStation Base or Optional Accessories)


YouTube

[Italian Channel, EN coming soon]

About Us
AquaStation.eu launched its product testing into the sea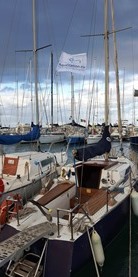 What better way to test the reliability of the products into the sea weather? Thanks to a small boat adapted for that purpose, will be made a series of tests both winter and summer, it will soon be possible to access and view the values of a AquaStation working in sea water!
Quale modulo opzionale vorresti che il nostro team di sviluppo realizzasse?
Densimetro elettronico per l'analisi della salinità - 41.9%
Gestore e dimmer per pompe di movimento e maree - 9.3%
Pompe peristaltiche dosatrici - 18.6%
Mini UPS in grado di avvisare via email e mantenere acceso l'AS in caso di assenza di corrente - 9.3%
Display touch screen - 7%
The voting for this poll has ended
---